reprinted from Automotive Engineering, February 1999
Sea-going Accord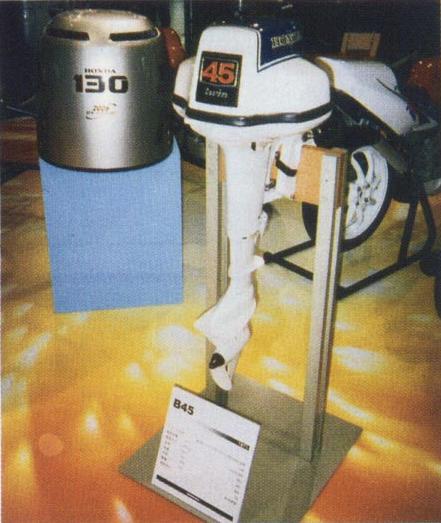 Honda has progressed significantly from
this 1971, 34 kW (45 hp), four-stroke unit.
Honda is among the distant-second group of the world's outboard engine producers in terms of unit sales. The market is led by the Big Three, America's Outboard Marine, Brunswick, and Japan's Yamaha, who among them have a lion's share (80%) of the market, 674,000 units of the total 789,000 sold in 1995. Honda's share that year was a meager 5% (40,000). With more models covering wider segments, the company's sales increased to 51,000 units, representing 7.8%, in fiscal 1996. Honda hopes to up the ante with the addition of the most powerful type in its lineup, the BF115/130.
Honda is unique among the world's outboard engine manufacturers in that, since its 1964 entry to the field, its products are all powered by four-stroke engines, vs. its competitors' predominantly two-stroke lineups. "In this and following decades, environmental concerns should become more acute, including in the water," observed Akimitsu Yokoyama, then director of Honda Asaka-Higashi R&D, when he launched the company's first multicylinder outboard in 1990. "Pollution of lakes has become a major environmental issue already, as in the case of Bodensee in Switzerland, where two-stroke motors are now banned from access."
The U.S. EPA has since tightened its control over marine engine emissions (except diesel), reducing combined hydrocarbon and nitrous oxide emissions by 9.3% in 1998, and by 95% for 2006. Honda's 11 outboard-engine products meet the 1998 standards. Honda is proacting on the 2006 requirements, bringing its products up to those Draconian standards.
Why are competitors not taking the same four-stroke route en masse? "High cost of design, development, and manufacturing for the market volume," explained Yokoyama. "Especially, tooling for a new, specific crankshaft." Honda's forte is the four-stroke engine, possessing myriad such engine types for automotive and power equipment applications.
The company's first multicylinder outboard engine was based on the liquid cooled, overhead camshaft, inline three-cylinder engine for light vehicles, with its displacement enlarged to 808 cm3 (49 in3)--from the light-vehicle's limit of 660 cm3 (40 in3). The three-cylinder series is now offered in two displacement sizes: the BF40/50A with 808 cm3 (49 in3) and the BF25/30A scaled down to 499 cm3 (30.4 in3).
Then Honda adapted the Civic's SOHC 1590-cm3 (97 in3) inline four-cylinder engine in a quad-carbureted form, to an outboard application, designating it BF75A/90A.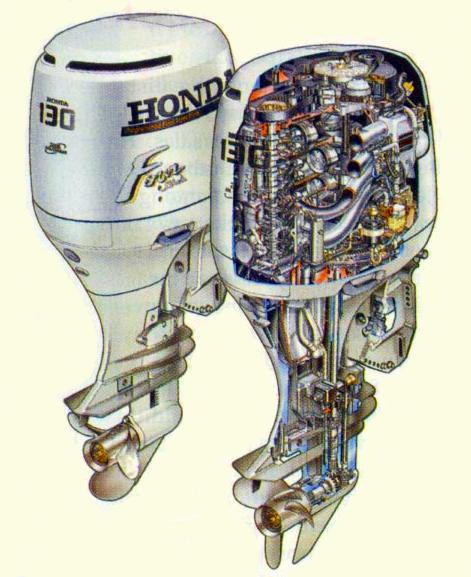 The BF130A model delivers 97 kW (130 hp), uses
a single-stage cogged belt to drive the single overhead
camshaft, and has twin contra-rotating balancer shafts.
The strategy has been expanded further, and now includes the industry's most powerful four-stroke outboard-engine series, the BF115/130A, which uses the Accord's SOHC 2254-cm3 (137.5-in3) inline four. Asaka-Higashi R&D had, in fact, tried a different and bolder approach to produce a high-power outboard, designing and evaluating a prototype four-stroke V4 engine. The project was subsequently abandoned due to its high cost, especially the bent engine's unique crankshaft. At the time of this writing, Suzuki is the only other manufacturer producing four-stroke, four-cylinder, 1298-cm3 (79-in3) marine engines of 45-52 kW (60-70 hp) ratings, which are also based on the company's automotive four-cylinder engine.
The BF115/130A shares its basic architecture with the Accord unit. It obtains a total displacement of 2254 cm3 (137.5 in3) with 86 mm (3.39 in.) bore and 97 mm (3.82 in.) stroke. Both cylinder head and block are light alloy. The single overhead camshaft is driven by a single-stage cogged belt, and acts on four valves per cylinder via rockers with screw-type clearance adjustment. The engine employs twin contra-rotating balancer shafts turning at twice the crankshaft speed to cancel out secondary unbalance forces.
For its fuel system, Honda adapted its automotive electronic PPG-FI, short for programmed fuel injection, to the engine, the first such application in an outboard four-stroke engine. Steady idling is an important requirement for an outboard, as for low-speed trolling. The BF115/130A's idle control system attains steady idling and trawling speed of 650 rpm (vs. the Civic-based, carbureted BF90A's 850 rpm), by EACV, or electric air control valve, which regulates bypass air volume introduced to the intake manifold. The EACV also eliminates a screw-type idling adjuster, and enables engine start-up without manipulating the throttle. The BF115/130A's ignition is fully transistorized, and the ignitor is built within the engine control unit (ECU).
The engine incorporates a number of alert control devices. When the lubricant pressure switch senses an alarming drop, the ECU turns off the oil pressure lamp (green), sounds warning buzzer, and lowers engine rpm. It gradually raises engine speed when pressure is restored. A signal from the cooling system over-heating sensor received by the ECU turns on an overheat-warning lamp (red), sounds a buzzer, and lowers engine speed. Should overheating continue for a certain time period, the ECU stops the engine. Another warning function is the ac-generator's malfunction, which is conveyed to the operator by a warning lamp and buzzer. The ECU quickly interferes if and when the engine is over-revved, by cutting ignition to all cylinders.
Honda has added a counter-rotation version to the BF115/130A engine series to enable twin engine installation.
Two versions are offered in the BF115/130A range as its numerical designations indicate: 97 kW (130 hp) and 85.8 kW (115 hp), both at 5500 rpm. The lower powered unit is "detuned" to suit the hull certification limit.
Honda's own comparison data of the new BF130A and direct competitors are shown below:
Honda BF130
16-valve I4
Yamaha 130
2-stroke V4
Mercury 135
2-stroke V6
Displacement
(cm3)
(in.3)

2254
137.5

1730
105.5

1998
121.9
Bore and stroke
(mm)
(in.)

86x97
3.39x3.82

90x68
3.54x2.68

79x67
3.11x2.64
Recommended rpm range
5000-6000
5000-6000
5000-5600
Fuel feed
Fuel injection
2 carburetors
3 carburetors
Electric, alternator
12V 40A
12V 20A
12V 40A
Dimensions (mm)
length
width
height

845
550
1657

828
602
1564

n/a
471
1737
Dimensions (in.)
length
width
height

33.26
21.65
65.24

32.60
23.70
61.57

n/a
18.54
68.39
Mass, complete
(kg)
(lb)

225
495

167
367

184
405
Noise*,
idling(dBA)
WOT(dBA)

68
97

78
105

78
104
Fuel consumption**
(L/h)
(gal/h)

24.1
6.38

34.7
9.18

40.6
10.74
Note: * .... At 0.8 meter from the ear
** .... At Honda's "leisure mode," which consists of 15% idling, 50% partial, and 35% WOT
n/a ... Measurement not available
Honda has recently entered an agreement with Nissan to OEM-supply its entire BF outboard units, from the smallest BF2 to the new BF115/130A. Nissan has one of the largest marine operations in Japan, whose products include pleasure and fishing boats, inboard diesels, and OEM-sourced (Tohatsu) two-stroke outboards. The partnership should contribute to a significant market expansion of the BF series.
Jack Yamaguchi