reprinted from Automotive Engineering, June 1998
Honda J-mover
Honda's J-mover series is based on the Logo minicar platform. Of the four concept vehicles, at least two should join Honda's Japanese lineup within a year. They are likely to be: the J-WJ, a kid brother to the CRV light sport-utility employing Honda's simple dual-pump torque transfer/split system for on-demand four-wheel drive; and the JMW, a tall mini multipurpose vehicle.
Technically the most interesting is the J-VX, with its 2+2 coupe body styled by Honda's Californian design center. The car is powered by the IMA concept powertrain, which employs a direct-injected three-cylinder gasoline engine assisted by an electric motor via a CVT. Unlike Toyota's Prius IC engine/electric parallel hybrid, the IMA's primary power source is the IC, which is assisted by a compact dc brushless motor on demand, such as in acceleration. The motor/generator regenerates electricity on deceleration or steady-state cruise, and electric energy is stored in a compact ultracapacitor. The IMA is about 50 kg heavier than a comparable 1.5-L gasoline engine; however, with its extremely high energy efficiency, Honda is aiming at attaining 30 km/L on Japan's 10/15-mode urban test cycle.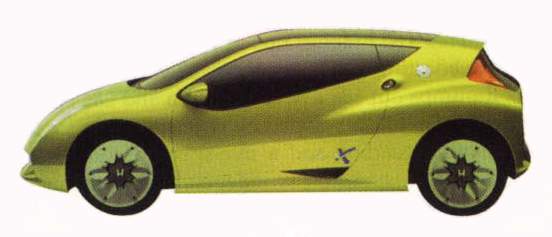 Another interested feature of the J-VX coupe is an "airbelt" -- an inflatable seat belt. The J-VX was fitted with a four-point belt on each front seat; however, Honda says it could be readily adapted to a three-point, diagonal shoulder belt. The airbelt is combined with dual SRS air bags in the J-VX.